Inspired by over thirty years' experience of treating with and studying the therapeutic properties of the finest sustainable, natural ingredients. Organic, PETA certified cruelty free and vegan.
High-performance Therapeutic Botanical Skincare
Our unique, antioxidant-rich SuperSeed Complex, potent plant extracts and exquisite essential oils expertly formulated to provide exceptional face, body and mind care.
See more
Thank you! It really is exquisite. The most beautiful smell and my face
loves it and feels smoother than ever.

Jo
Not only does it rejuvenate the skin, but the
scent is wonderful and 'grounding' to the point where when I apply it each
morning I feel complete!

Dom
I love this product! Not only does it feel and smell fabulous, people
have actually commented on how radiant my skin looks.


Lorraine
My new go-to face oil - smells fantastic and makes me think of sunfilled feel-good days.




Dodie
This oil has a wonderful scent... love how smooth and soft my skin feels.




Bea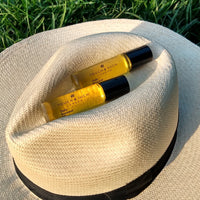 Discover A Different Approach
Created by massage and aromatherapy teachers and therapists working with nature.
Discover
"Every day is a journey, and the journey itself is home."